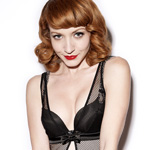 Megan, by her own admission, is a pretty small girl (she refers to herself as a "teacup human"). But since childhood–when all of us were small girls and boys– we've been taught that good things come in small packages, and in this case, yes, yes, yes! It is very true.
You've seen her before. She's the topless poet girl from Season One of Mad Men. She's been in countless commercials. Last year, she appeared as a tempting treat for Bill Pullman's serial evildoer Oswald Danes on Torchwood: Miracle Day. In 2013, she's set to appear opposite Elijah Wood in the thriller Maniac. But right now, she's set to appear absolutely stunning on your computer screen.
Here's Megan in her own words:
Name: Megan Duffy
Twitter:  twitter.com/themeganduffy
Facebook:  Megan's Page
Website: meganduffy.com
Date of Birth: August 22. That's all you get.
Hometown:  Springfield, MA and Enfield, CT
Ethnic Background:  Made of potatoes.
Hobbies/Interests: Putting things in my mouth (food!), red wine-ing, dance class, shoe shopping, Judge Judy.
Career Aspirations:  Hoping to star in a femme-centric remake of The Shield.
Tell Us a Secret: Since my major in college was dance, I'm only able to count to 8.
Favorite Foods: French fries and french bread, street tacos, roasted chestnuts.
Favorite Movie: Paul Verhoeven's Turkish Delight.
Favorite TV Shows: The Shield (obviously). Breaking Bad, Homeland, Mad Men, Law and Order: SVU, Big Bang Theory, The People's Court.
Favorite Books:  I've read all the Game of Thrones books and currently working through George R.R. Martin recommended The Name of the Wind by Patrick Rothfuss.
Favorite Music: Am I a total cliché if I answer Radiohead?
Favorite Video Games: Street Fighter
Favorite Tech Gadgets: I finally got an iPhone and it really does beat the hell out of my old Blackberry.
Favorite Travel Destinations: I like to visit the East Coast as often as possible.
Girl Crushes: Mariska Hargitay, Rooney Mara, the girl from Die Antwoord, and of course Cherie Roberts.
---
Megan Duffy ♥s Wine and Cats Wallpapers
Megan Duffy ♥s Wine and Cats
Megan Duffy ♥s Milk Video
Megan Duffy ♥s Milk Wallpapers
Megan Duffy ♥s Black Lingerie Wallpapers
Megan Duffy ♥s Black Lingerie