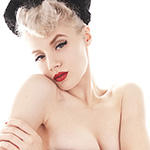 In addition to being one of the most sought-after alt models on Earth, Mosh is a budding burlesque superstar. When she's not modeling for alt magazine covers, she's practicing the fine art of burlesque, developing intricate stage shows and taking her unique act on the road.
Does she have an army of clones who help maintain her web site (themoshroom.com) and model for the likes of Maxim and Bizarre, or is she just that awesome? While we love the idea of hundreds of Moshes running around, our clone theory isn't true: She's just awesome.
Mosh rocks because she is one of the hardest-working models in the industry, and one of the few models truly dedicated to the art of modeling. The proof is in her pictures. Look for her own line of Coffin Cases… coming soon!
Here are some more facts straight from Mosh herself:
Name: Mosh
Website: themoshroom.com
Birthday: August 21
Hometown: Mother Russia (Her words)
Ethnic Background: Russian
Hobbies: Antiquing, knitting, designing stage shows
Career Aspirations: Burlesque performer
Tell Us a Secret: No (We love you, Mosh!)
Favorite Food: Parisian macarons
Favorite TV Shows: Portlandia, Boardwalk Empire
Favorite Book: Master and Margarita
Favorite Musicians: Les Paul, The Cramps, Edith Piaf
Girl Crushes: Marlene Dietrich, Charlize Theron
---
Miss Mosh ♥s Latex Wallpapers
Miss Mosh ♥s The Tease Wallpapers
Miss Mosh ♥s Black Lingerie Video
Miss Mosh ♥s Varsity Wallpapers
Miss Mosh ♥s Sexy Little Things Wallpapers
Miss Mosh ♥s Sexy Little Things
Miss Mosh ♥s Red Velvet Wallpapers