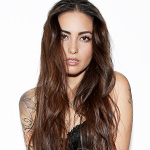 Ask Christine Aguiling about her accomplishments and she'll speak of the work she's done behind the camera. She's quite an accomplished make-up artist, having done work for projects like The Today Show, 48 Hours Mystery, and Cappel & Ride.
But in front of the camera, she is a natural model. I met her on Instagram (a first!) and based on her pictures and look, immediately wanted to shoot her. She was a joy to work with and I can't wait to do it again!
Here's a little more about Christine in her own words:
Name: Christine Aguiling
Birthday: July 20
Hometown: Seattle, WA
Ethnicity: 1/2 Filipino, 1/2 Caucasian (Italian/French/Irish)
Hobbies/Interests: Cooking/baking/trying new recipes, running and being active in general, 2nd-hand shopping, surfing the 'net and following random girl bloggers, spending lazy days relaxing with my dog, coffee dates with my closest girlfriends.
Career Aspirations: I would love to continue with my makeup career even if mainly as a hobby. I would also love to enter in the health and fitness world as a physical therapy assistant and personal trainer.
Tell Us a Secret: I'm uncomfortable with being the center of attention. I'm comfortable posing in a photo shoot but struggle to pose in regular photos and having to do pretty much anything in front of a lot of people. I'm actually quite shy.
Favorite Foods: I love so many types of food, it's hard to chose a favorite. But Japanese and Italian I can eat regularly and never get sick of.
Favorite Movies: Forgetting Sarah Marshall, Cry-Baby, Chocolat, 21 Jump Street, I'm a huuuuge Johnny Depp fan so almost all of his movies.
Favorite TV Shows: Nip/Tuck, Army Wives, Will & Grace
Favorite Books: Candy Girl, Born To Run
Favorite Bands/Music: Most late '80s/ early '90s R&B/Soul, Hip Hop, island music.
Favorite Video Games: I'm not much of a gamer but when I was younger I was a huge fan of Mortal Kombat and Street Fighter.
Favorite Tech Gadget: Not a huge gadget person, but I'd be lost without my cell phone.
Favorite Travel Destination: Of all the amazing places I've visited, Hawaii continues to have a special place in my heart.
Girl Crushes: Mila Kunis, Miranda Kerr, Cindy Crawford, Gwen Stefani, random girl bloggers on the Internet. Beautiful, quirky girls with interesting personalities.
---
Christine Aguiling ♥s California Dreamin'
Christine Aguiling ♥s Pantyhose Wallpapers
Christine Aguiling ♥s Pantyhose