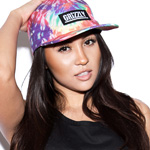 If you visit iheartgirls often, you know we're all about the melting pot. As a proud Eurasian, I love to see various ethnicities collide in new and beautiful ways. That's one of the reasons Paloma Jay is so captivating.
I first saw her on Instagram, and right away loved that gorgeous chameleon quality. Her look is almost impossible to pin down; a mix of Mexican, Portugese and Chinese perfectly blended to form one gorgeous girl. I had to shoot her.
You can also see Paloma in the Summer '13 Lookbook for Rook Clothing. And of course, stay tuned to IHG for plenty more from Paloma!
Here's a little more about Paloma in her own words:
Name: Paloma Jay
Instagram: Paloma_Jay
Birthday: August 31, 1989
Hometown: Duarte, CA
Ethnicity: Mexican/Portugese/Chinese
Hobbies/Interests: Working out, eating healthy, hanging out with friends, making clothes, art, music and champagne
Career Aspirations: I would love to do something with fashion, like a stylist or buyer for my own store. I also do hair!
Tell Us a Secret: Fake eyelashes are my secret!
Favorite Foods: Mexican/Italian/Japanese/Thai
Favorite Movies: Jawbreaker, Clueless, Mean Girls, Marie Antoinette, Cruel Intentions, Anchorman, Superbad
Favorite Books: How to Make Love Like a Porn Star
Favorite Bands/Music: Frank Ocean, School Boy Q, A$AP Rocky, Lan Del Rey, Kendrick Lamar, Purity Ring, Santigold, Rihanna, The Glitch Mob
Favorite Tech Gadget: iPhone
Favorite Travel Destination: Bora Bora
Girl Crushes: Megan Fox, Candace Swanpoel
---
Paloma Jay ♥s Grizzly Griptape Wallpapers
Paloma Jay ♥s Grizzy Griptape