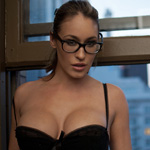 There's no defining Ryan Keely (but we'll try). First off, she's a self-proclaimed nerd. She's been a Penthouse Pet and sex advice columnist. She's an actress, an avid gamer, a comic book collector and reviewer.
She's appeared in promo materials for the video game Saints Row 3… and on the covers of many magazines. She's currently hosting the Playboy TV show Jukeboxx Live. Oh, and she's a correspondent for TheRealStanLee.com.
She has hosted videos and appeared on numerous podcasts on the web's biggest gaming site, IGN.com. She's held a position at the sex toy company Fleshlight and has been nominated for multiple AVN Awards. In short, she is a Renaissance woman, and we heart her.
Here's a little more about Ryan in her own words:
Name: Ryan Keely
Instagram: @Ryan_Keely

Facebook: Ryan Keely's Facebook Page

Twitter: @ryankeely
Birthday: July 2nd
Hometown: Seattle, WA
Ethnicity: Irish, German, Cuban, Scottish, Welsh
Hobbies/Interests: Magic The Gathering, independent comic books, Nap time, cooking and reading
Career Aspirations: Already living my dream of hosting a TV show.
Tell Us a Secret: Megadeth's Countdown to Extinction is one of my favorite albums.
Favorite Foods: Mexican
Favorite Movie: Shampoo, Ichi the Killer
Favorite TV Show: Firefly, Cowboy BeBop
Favorite Music: Chromeo, The Cure, Mingus, Caravan Palace, Sam Sparro
Favorite Book: Preacher, The Official Preppy Handbook, East of the Sun and West of the Moon, A Big Life in Advertising
Favorite Video Games: Fable, Frontier Rush
Favorite Tech Gadget: My vibrator
Favorite Bands/Music: Brand New; Favorite music: rap and rock
Favorite Travel Destination: South France
Girl Crush: Anne Hathaway, Charlize Theron, Jelena Jensen
---
Ryan Keely ♥s Castle Corsetry
Ryan Keely ♥s Window Undressing Wallpapers
Ryan Keely ♥s Window Undressing