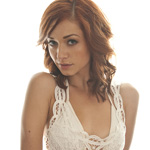 Sierra Love is my kind of model. She can be hot, sexy, adorable, cute; you name it, she's got it in her arsenal. The first time I ever shot her was for iheartgirls, and the dynamic immediately clicked. In fact, the first thing I had her do was pose in public as onlookers streamed by. She delivered an awesome set, and even elicited some "wows" from the crowd.
She's only 22, but she's already done a bunch of commercial work, for companies like Sprint, Pepsi, Mcdonalds, and Honda.
She also stars in Extraction, a film coming out in 2016 starring Kellan Lutz and Bruce Willis. She's been a costar on State of Affairs on NBC, and has boasted roles in multiple independent films in addition to modeling for numerous fine artists. So add muse to the resume.
Learn a little more about Sierra in her own words.
Name: Sierra Love
Twitter: twitter.com/pseudonymous
Facebook: facebook.com/sierralexandra
Birthday: November 24, 1989
Hometown: Beaumont, CA
Ethnic Background: Irish, German, Dutch, Native American
Hobbies/Interests: Muay Thai, crochet, hiking and good beer. I'm also a huge sports fan.
Career Aspirations: I'm a professional actor. I aspire to continue that line of work. I'd also like to travel. A lot.
Tell Us a Secret: Little known fact, I grew marijuana for 2 years.
Secret Talent: I'm an avid Fantasy Football enthusiast.
You Should Also Know: I'm a large supporter of Wikipedia, I donate every year. I love their dedication to making knowledge accessible and free to all who have Internet access, which as of 2013, includes an estimated 77% of the developed world. I find that beautiful.
Favorite Food: I'm a sucker for authentic Mexican food. I love everything spicy!
Girl Crushes: Betty White, Kali (Indian goddess)
Current Pets: Hephaestus and Persephone, both tabby cats. Heph has FIV.
---
Sierra Love ♥s Heart Lingerie
Sierra Love ♥s The LA Subway Wallpapers
Sierra Love ♥s The LA Subway
Sierra Love ♥s The Afternoon Sun Wallpapers
Sierra Love ♥s The Afternoon Sun
Sierra Love ♥s The Afternoon Sun Video