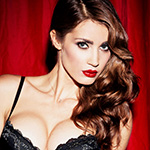 It's no wonder that Tanit Phoenix was selected as IGN Babeology's Babe of the Year: this South African goddess was a huge fan favorite… and a personal fave of mine! She's been modeling since she was 15, appearing on covers and in the pages of magazines worldwide, including Cosmopolitan, GQ, FHM, Shape, Sports Illustrated and many, many more.
I first met her shooting a Babeology feature for her role in Death Race 2. Since then, she's gone on to host the popular Cinemax series Femme Fatales, and appeared in numerous movies, including Death Race 3: Inferno and Safe House.
Here's more about Tanit in her own words:
Name: Tanit Phoenix
Instagram: @FireNymph
Twitter: @TanitPhoenix
Facebook: Official Tanit Phoenix Fan Page
Website: Official Tanit Phoenix Site
Birthday: September 24th
Hometown: Durban South Africa, now Los Angeles, California
Ethnic background: Irish/Mediterranean/Dutch
Hobbies/interests: Guitar, yoga, mountain biking, adrenaline sports, muay tai, horse riding, scuba diving, fire spinning, painting/drawing, photography and filming.
Life beyond acting: Traveling the world. Photography. Writing. My family own an organic farm in the Drakensberg of South Africa. I am so intrigued with self-sustainable living and organic methods of growing food, it goes hand in hand with studying nutrition. I will design a self-sustainable home one day that incorporates the environment with healthy living I.e. growing our own food.
Tell us a secret: I believe I have magical powers… Ha ha…
Favorite Foods: I am vegan, so exploring new vegan recipes from traditional favorites is my new thing. I love green smoothies! Raw food! Coconut water, mango, litchis, sweet black cherries, am addicted to avocado and sprouts.
Favorite Movies: The Fountain, Finding Sugar Man, District 9, Lone Ranger, The Abyss. My boyfriend and I love watching documentaries.
Favorite TV Shows: Modern Family, Fringe, Flash Forward
Favorite Books: Proof of Heaven, The Twelfth Insight, The Secret of Shambala, A New Earth, The Magic, Superfoods. I study vegan nutrition so I read everything to do with raw foods, vegan foods, and organic farming.
Favorite Bands/music: John Mayer, Joe Bonamassa, Deep Forest, Enigma, INXS, George Michael, Cafe Del Mar, Rodrigo y Gabriela, Sophie B. Hawkins, Sting, Zero 7, Morcheeba, Will I Am.
Video games: Doom was my favorite game when I was at school.
Tech gadget: My iPad.
Travel destination: Hawaii, Thailand, anywhere tropical. I love Paris.
---
Tanit Phoenix ♥s Sexy Lingerie
Tanit Phoenix ♥s Black Lingerie
Tanit Phoenix ♥s Red Velvet Wallpapers
Tanit Phoenix ♥s Red Velvet Video
Tanit Phoenix ♥s Red Velvet