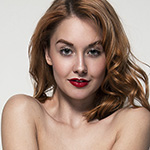 People like to throw the term "classic beauty" around, and 90% of the time it's not an accurate assessment. But Maryjane McLain fits the bill: she is classically beautiful and a half. The moment I saw a picture of her, I wanted to shoot her. The experience was even better than I expected, and I was expecting a lot!
Maryjane is relatively new to modeling, but she's got all the elements: a great attitude, beautiful face, incredible body and a willingness to learn. Coming from Detroit, she's been at it for less than a year, but she takes gorgeous photos like a seasoned model. Plus, she loves Twin Peaks. Gigantic, enormous sums of points for love of David Lynch.
She is perhaps the only model in history who has ever listed Stretch Panic as her favorite video game. For the uninitiated, Stretch Panic is about a little girl with an evil scarf who must stretch and bend the world to her whims to save her bitchy sisters from vanity demons.  I know, I know… I am spoiling her answers below. But she gave such cool answers!
Here's a little more about Maryjane in her own words:
Name: Maryjane McLain
Instagram: @maryjanemclain
Facebook: Maryjane McLain's Facebook Page

Birthday: July 22nd
Hometown: Detroit, MI
Current City: Los Angeles, CA
Ethnicity: I'm a baby alien
Hobbies/Interests: Hot air balloons
Career Aspirations: I wanna do it all! Acting, circus performance, fixing cars– literally almost everything
Tell Us a Secret: I have the sniffles right now–I'm embarrassed. Give me a tissue.
Boys: cute or gross? Eh, they're inevitable
Favorite Foods: Thai food
Favorite TV Show: Twin Peaks
Favorite Books: Kurt Vonnegut
Favorite Bands/Music: Play it all! (But not really, cuz I'm picky but eclectic)
Favorite Video Games: Stretch Panic– forever!!!
Favorite Tech Gadget: Super technologically inept
Girl Crushes: Mido (From Oldboy)!!!
Current Pets: Yuki (Cat) My little buddy!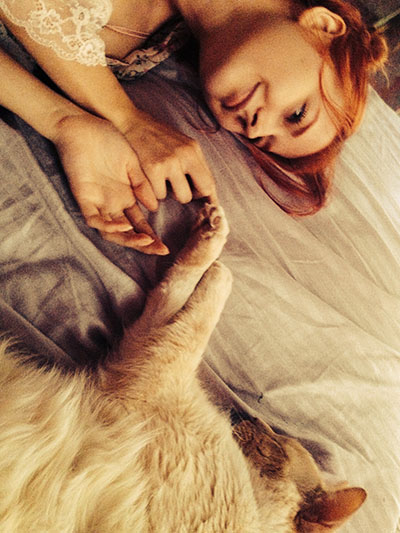 ---
Maryjane McLain ♥s Twin Peaks
Maryjane McLain ♥s St. Patrick's Day
Maryjane McLain ♥s Pantyhose