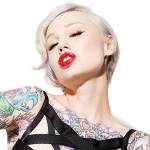 People often refer to the body as a canvas; certainly photographers do. In Carrie Jo's case, it is utterly true. Her body is beautiful in its own right, but she has decorated it with some of the brightest, prettiest tattoos I've seen.
Creative, too. She may be the only person in the world who sports a venus fly trap tattoo under her arm. Her ink has earned her a place among some of the biggest tattoo magazines out there: she's appeared in Inked Girl Magazine a couple of times in the States and twice in Australia/New Zealand, and Inked Magazine once. We're very happy to welcome her to iheartgirls!
Carrie Jo is based in DC, so I had to wait a while until she visited LA to shoot her, but all that patience paid off. She is obviously gorgeous, but also warm and friendly and so, so easy to work with. Our shoot was really laid back and a lot of fun, and I love the pics we made together. I will be doing my best to convince her to move to LA, and very soon!
Here's a little more about Carrie Jo in her own words:
Name: Carrie Jo
Instagram: @carriejodc
Twitter: @carriejodc
Facebook: Carrie Jo's Facebook Page

Website: carriejodc.tumblr.com
Birthday: December 8, 1986
Hometown: Falls Church, VA
Current City: Washington, DC
Ethnicity: Irish, English, German
Hobbies/Interests: Fashion, feminism, punk rock, art, cult films, sensationalism
Career Aspirations: I'd love to be a journalist.
Boys: cute or gross? Boys with talent, intelligence and empathy are cute.
Secret Talent: I can wiggle one ear at a time.
Favorite Foods: Maryland Blue Crabs
Favorite TV Show: Boardwalk Empire
Favorite Movie: Female Trouble, directed by John Waters
Favorite Books: The Bluest Eye by Toni Morrison
Favorite Bands/Music: Cocksparrer, G.G. Allin, Hank Williams, Sr., Patsy Cline
Favorite Travel Destination: Barcelona, Spain
Girl Crushes: Bette Davis, Joan Jett, Poly Styrene
Carrie Jo ♥s Agent Provocateur