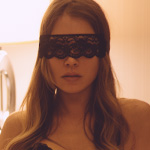 A few months back, I shared some photos of one of my closest friends, who has been retired from the modeling scene for a while. She is, of course, completely gorgeous, and besides being my first ever subject, she's one of the best models I've ever shot.
It took a bit of cajoling (or maybe forcing is the more accurate term), but I finally got her to agree to shoot. We took a series of shots in the window of my hotel room before turning our attention to the bed.
With 50 Shades of Grey debuting this weekend, I thought it was the perfect time to roll out our second set of photos, which featured the lightest bondage ever photographed. Okay, so it's a shaky connection to a huge media phenomenon. Look at that awesome lace mask!
I don't often get to shoot in hotel rooms, it's always a nice change of pace. The bed was a lot of fun with its ornate headboard and endless pose possibilities, and she made full use of it. One of these photos in particular is one of my favorite photos ever (guess which in the comments below!).
As before, some of you may know who this is in the pictures and that's cool if you do. But if you do know, please don't share. I'd like to keep her identity hidden and maybe we'll see her on IHG again some day. Cross your fingers… now!