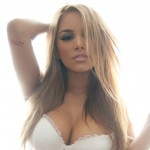 "Soul mates don't necessarily have to be people," says Justene. "Animals can be soul mates." Although she's a very successful model, what she's perhaps most proud of is being a mom (and soul mate) to her puppy Senor Vinny Cupcakes, and that just makes us love her more (as does his awesome name).
From print to commercials to music videos, Justene has brought her stunning beauty to scores of projects.
She's been a Penthouse Pet (October 2008), rocked photo spreads for clothing lines like The Hundreds and Primitive, appeared on countless magazine covers, and generally dazzled the world. Let her dazzle you now!
Name: Justene Jaro
Instagram: Justene_J
Twitter: @JusteneJaro
Birthday: November 17
Hometown: Atlanta, GA
Ethnicity: Filipina and Puerto Rican
Hobbies/Interests: Dogs, food, vodka and snuggling
Career Aspirations: I'd really love to get rich from hanging out with my friends
Tell Us a Secret: I have a secret Instagram of my every bowel movement… find me.
Favorite Foods: Water
Favorite TV Show: Adventure Time
Favorite Movie: Porn
Favorite Book: 48 Laws of Power
Favorite Bands/Music: Mariah Carey
Favorite Video Game: The Sims
Favorite Travel Destination: Brazil
Girl Crushes: Mariah Carey
---
Justene Jaro ♥s Adventure Time
Double Exposure: Justene Jaro ♥s Tiny Bikinis
Justene Jaro ♥s White Lingerie Video
Justene Jaro ♥s Summer Streets Wallpapers
Justene Jaro ♥s Summer Streets
Justene Jaro ♥s White Lingerie Wallpapers
Justene Jaro ♥s White Lingerie