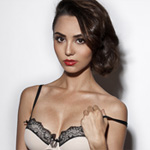 Cindy Bru may qualify as the hottest Steelers fan in human history. Originally from Pittsburgh, and now stationed in Los Angeles, the model and actress is religious about her favorite team (she also loves the Penguins). Let's recap: model, actress, sports fan. Yup. Line up, fellas.
Since relocating to LA, Cindy's been busy, modeling for sites like UGO and IGN, and appearing on Nip/Tuck and Rules of the Trade.
Most recently, she showed up in Resident Evil Resurrection, a live action fan film set in the universe of the Resident Evil games. There are plenty more Cindy Bru projects on the way, so stay tuned!
Here's a little more about Cindy, in her own words:
Name: Cindy Bru
Twitter: @CindyBru43
Birthday: January 27th
Hometown: Pittsburgh
Ethnic Background: Korean/German/Irish
Career Aspirations: Actress/Directing/Lots of kids
Tell Us a Secret: I have two left feet, terrible dancer (I can barely walk without tripping).
Favorite Foods: Korean food/Anything coconut flavored
Favorite Movie: Labyrinth
Favorite TV Shows: Dexter, The Walking Dead
Favorite Book: The Great Gatsby
Favorite Music: Pink Floyd, Rush, Third Eye Blind
Favorite Tech Gadgets: iPhone, iPad
Favorite Travel Destinations: New Zealand, Ireland
Girl Crushes: Jessica Biel, Angelina Jolie
---
Cindy Bru ♥s Rock n' Roll Wallpapers
Cindy Bru ♥s Rock n' Roll
Cindy Bru ♥s Sheer Knickers Wallpapers
Cindy Bru ♥s Sheer Knickers