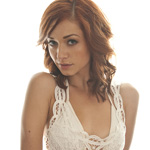 Sierra Love is my kind of model. She can be hot, sexy, adorable, cute; you name it… she's got it in her arsenal. The first time I ever shot her was for iheartgirls, and the dynamic immediately clicked. In fact, the first thing I had her do was pose in public as onlookers streamed by. She delivered an awesome set, and even elicited some "wows" from the crowd.
She's only 22, but she's already done a bunch of commercial work, in addition to modeling for numerous fine artists. So add muse to the resume. And TV actress. She recently finished shooting an episode for the second season of the Showtime series Femme Fatales. If we can figure out a way to fast forward to fall to see the episode, we will do it.
Learn a little more about Sierra in her own words.
Name: Sierra Love
Twitter: twitter.com/pseudonymous
Facebook: facebook.com/sierralexandra
Birthday: November 24, 1989
Hometown: Beaumont, CA
Ethnic Background: Irish, German, Dutch, Native American
Hobbies/Interests: Hiking, archery, gardening, crochet, art of various mediums
Career Aspirations: Acting of course, being wealthy (haha), environmental designer and architect
Tell Us a Secret: I have kid-sized feet, so finding sexy shoes can be very difficult… but I get Converse for half-price! I'm related to both Brothers Grimm and Ethan Allen.
Favorite Food: I eat the spiciest food. I can eat a habanero whole and not break a sweat.
Favorite TV Shows: Adventuretime, 30 Rock (of course), Downtown Abbey looks promising, and of course MASH.
Favorite Books: Crime and Punishment, Brave New World, Long Day's Journey Into Night
Favorite Video Games: Binding of Isaac, Super Meat Boy, Portal (anything by Valve)
Favorite Tech Gadget: Cordless mobile phone
Girl Crushes: Betty White, Kali (Indian goddess)
---