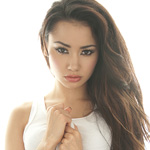 Michelle is everything you hope to find in a model: beautiful, versatile, open, collaborative. It's impossible to take a bad photo of her (why would you even try?). I first met Michelle shooting Babeology and loved working with her, so I had to bring her over to the iheartgirls team!
In addition to IGN, Michelle has appeared in Import Tuner and D-Sport magazines. She's also done work for Doritos, Counsil and Los Angeles, Inc.
See what Michelle has to say about herself below!
Name: Michelle Tomniczak
Facebook: facebook.com/MichelleTomniczak
Birthday: September 4, 1988
Hometown: Simi Valley, CA
Ethnic Background: Mexican, Polish, German, Irish, French
Hobbies/Interests: Camping, running, hiking
Career Aspirations: Owning my own skin care business
Favorite Food: Mexican
Favorite TV Shows: I Love Lucy, Will and Grace
Favorite Music: Korn, Tool, Radiohead
Favorite Video Games: Donkey Kong, Mario Bros.
Favorite Travel Destination: Hawaii
Girl Crushes: Angelina Jolie, Mila Kunis, Adriana Lima
---
Double Exposure: Michelle Tomniczak ♥s Wonder Woman
Michelle Tomniczak ♥s Tighty-Whities Video
Michelle Tomniczak ♥s Tighty-Whities Wallpapers
Michelle Tomniczak ♥s Tighty-Whities