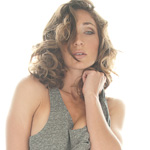 You know when you go to see Cirque du Soleil and a performer is floating effortlessly with only fabric to support them? Yeah, that's Genevieve. She's an aerialist, but you're just as likely to see her suspended by silk high in the air as you are to see her lounging on a beach. "Swimming in waterfalls and rolling around in the sand is definitely food for my soul," she says.
Raised in California, she has a long list of commercials and fashion spreads to her credit. She's also an actress, appearing in the brutal remake of the '80s horror film Maniac, which debuted to great reviews at the Cannes Film Festival. You might also remember her as the swimmer who meets a grisly end (via propeller) in Piranha 3D. Genevieve is also set to appear as Miss Klein in Push Play.
That's coming soon, but until then, check out her amazing photos and hear about Genevieve in her own words below!
Name: Genevieve Alexandra

Birthday:  November 25
Hometown: Born and raised in Los Angeles, CA. I grew up between Santa Monica, Venice Beach and Beachwood Canyon.
Ethnic Background: European mutt
Hobbies/Interests:  I'm an aerialist and have been in love with silks and cirque for quite a while. I also am big into yoga and nature.
Career Aspirations: I aspire to being a great mother,  following my heart and having a strong and successful career.
Favorite Food: Blueberries and dark chocolate.
Favorite Movies: True Romance and Into The Wild
Favorite Books: The ones that are on the shelf.
Favorite Music: Mr Little Jeans, The Black Keys, La Roux, Fever Ray, Coolie Budz
Favorite Travel Destination: All tropical, exotic places
Girl Crushes: Of course Angelina Jolie, Kate Winslet, Marilyn Monroe and Nicole Kidman
---
Genevieve Alexandra ♥s Comfy Undies Wallpapers
Genevieve Alexandra ♥s Comfy Undies
Genevieve Alexandra ♥s The USA Wallpapers
Genevieve Alexandra ♥s The USA