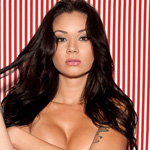 If you've been following Playboy at all in the last few years, you should already be familiar with Jennie Reid (lucky!). She's appeared in a bunch of pictorials and in shows like Badass, Beach House and Camp Playboy, and has been a Cyber Girl numerous times.
I first shot Jennie for IGN Babeology and have worked with her several times since. She's a natural model with great expressions and poses, and an awesome attitude.
Lately, she's been moving more into the acting realm, appearing on shows like Rizzoli and Isles and Showtime's Shameless. If there were a way to vote to put her on every show on TV, I would do that right now.
See what Jennie has to say about herself below!
Name: Jennie Reid
Facebook: Jennie Reid public page
Birthday: October 14, 1985
Hometown: San Bernadino, CA
Ethnic Background: Thai/German
Hobbies/Interests: Singing, cooking, snowboarding
Career Aspirations: Acting. screenwriting, and eventually owning a restaurant/lounge
Tell Us a Secret: I used to have a Playboy bunny tattoo which is now covered by my elephant/fish tattoo
Favorite Food: Sushi, Thai food, Pazookies from BJ's Restaurant, anything truffle-flavored, and cheese
Favorite TV Shows: Dexter, Forensic Files
Favorite Movies: Bad Santa, Man on Fire
Favorite Music: Muse, Skrillex, Rihanna, The XX
Favorite Video Games: Counter Strike + zombies
Favorite Tech Gadget: iPad
Favorite Travel Destination: Thailand, Europe, Australia
Girl Crushes:  Mila Kunis, Adriana Lima
---
Double Exposure: Jennie Reid ♥s Star Wars
Jennie Reid ♥s Red Stripes Wallpapers
Jennie Reid ♥s Red Stripes