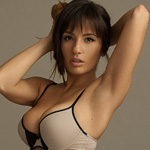 Shay popped on to my radar a few years ago, and was one of those models I saw and immediately said, "I have to shoot this girl." The first thing we ever shot together was an awesome Lolita-esque set I did for Babeology's Valentine's Day edition. From the moment I snapped my first frame of her, I was in photo love.
You hear the expression "The camera loves her" thrown around a lot, but with Shay, it's absolutely true. She doesn't take bad photos and she moves comfortably between sexy, innocent, fun, even goofy, and stays beautiful no matter what she's doing. She's got range! I suspect much of it comes from being a dancer, her first passion. She is so comfortable with and aware of her body, it translates into awesome poses and great expressions.
I'm not the first or only person to notice it. Shay has been working nonstop since she came on the scene, appearing in music videos, repping clothing lines and modeling for dozens of photographers. On TV, she's appeared on everything from Entourage to NCIS to Nip/Tuck. She's on T-shirts, all over the web, in your dreams. And now on iheartgirls.com, right where she belongs.
Check out what Shay has to say about herself:
Name: Shay Maria
Twitter: @shaymariaa
Facebook: Shay's Facebook
Website: shaymaria.tumblr.com
Birthday: 4/30/90
Hometown: Buena Park, California
Ethnic Background: Chilean, German and Irish
Hobbies/Interests: Dance, thrift store shopping, the beach, my dog and boyfriend.
Career Aspirations: I would like to go on tour with a major artist one day and travel the world.
Favorite Food: Pho, chocolate
---
Shay Maria ♥s Vape Wallpapers
Shay Maria ♥s Graffinis Bikinis Wallpapers
Shay Maria ♥s Graffinis Bikinis
Jim Mahfood ♥s Girls: Shay Maria Wallpapers
Jim Mahfood ♥s Girls: Shay Maria
Shay Maria ♥s Bed Wallpapers