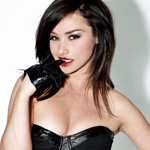 To call Danielle Harris a scream queen is an understatement. She's been screaming on screen since she was in grammar school, and has turned the art of running for her life on celluloid into an awesome career. Her social media handle is appropriately Halloweengal since she has appeared in four different Halloween films: 4 and 5 from the first run, and both of the ore recent Halloween films directed by Rob Zombie.
You might also remember her from The Last Boyscout, Don't Tell Mom the Babysitter's Dead, Roseanne, Daylight, Urban Legend and more recently Hatchet 2, The Victim, and Stake Land.
She's also recently taken her lifetime of experience in the horror genre and used it to fuel her directorial debut, Among Friends, about a murder mystery dinner party gone horribly wrong. A quick perusal of IMDB shows you just how busy she keeps herself. Coming up, Danielle is in Ghost of Goodnight Lane, Fatal Call, Hallows Eve, Nuclear Family, and Dead.tv. She is also back in Hatchet 3, coming out in spring of 2013.
I first met her shooting her for IGN Babeology. In addition to being an excellent actress, she proved to be a natural model as well.
Here's more about Danielle in her own words:
Name: Danielle Harris
Twitter: @Halloweengal
Facebook: Still working on the fan FB, so all the ones that are there now are not me. I have a private one, but will get the fan one up within the next few weeks.
Website: HorrorGal.com is launching January 2013! That will be my main focus, but right now it's Danielle-Harris.org.
Instagram: @Horrorgal
Birthday: June 1, 1977
Hometown: Born in Plainview, Long Island. Moved to Port Orange, Florida when I was two, then back to Howard Beach, Queens untilI was 12 and have been a Cali Valley girl ever since!
Ethnic Background: German, Romanian, English, Russian
Hobbies/Interests: Dance, cooking, photography
Tell Us a Secret: I hate all seafood. and ET still scares me.
Pet: An amazing American Pit Bull named "Thor" but I call him "Thorton"
Favorite Food: I'm a foodie so I have LOTS!! All pasta dishes, steak tartare, all cheese, prosciutto, bacon-wrapped dates, chicken salad sandwiches, bread pudding, any kind of piping hot cobblers, green tea mochi, good steaks and burgers but they have to be cooked medium rare/rare!
Favorite Movies: The Wizard of OZ, The Goonies, Goodfellas, Pulp Fiction, Back to the Future, The Muppet Movie, Terms of Endearment, When Harry Met Sally, Annie Hall, Family Man, Bridget Jones' Diary, Amelie, Coming to America, Up, Stand by Me, National Lampoon's Vacation and European Vacation, All that Jazz, The Shining, Gremlins, Sixteen Candles, Overboard, Defending Your Life, and the list goes on and on…
Favorite TV Shows: Three's Company, The Honeymooners, Cheers, Family Ties, The Golden Girls
Favorite Books: These are some of my recent favorites: "I Know This Much is True" and "She's Come Undone," both by Wally Lamb. Once I read an author I like, then I usually only read their novels until I've finished their collection. I just finished "The Art of Racing in the Rain" and Penny Marshall's memoir "My Mother was Nuts," which I loved! Moving into the directing shoes, it was extremely encouraging to read her journey and also amazing to go back and hear her stories about hanging out with some of the greatest comedians that ever lived.
Favorite Bands/Music: I am a sucker for acoustic chick music. I love any singers/songwriters of the 60s, 70s, and 80s and 90s. Anything from Indigo Girls, Carly Simon, Joni Mitchell, The Carpenters, Air Supply, Heart, Lionel Richie, Chicago, Fleetwood Mac, Christopher Cross… I better stop now. I'm sounding like that Time Life infomercial with people holding hands walking on the beach at sunset. Yes, I did buy that collection;)
Favorite Video Game: I don't play, but I like pinball. Old school for me!
Favorite Tech Gadget: I can barely figure out how to use my iPhone.
Favorite Travel Destinations: Dublin, Ireland and Hawaii
Girl Crushes: Miranda Kerr, Olivia Wilde, Penelope Cruz, Mila Kunis
---
Danielle Harris ♥s Blood Wallpapers