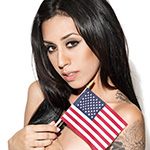 We found Alee via the model submission form on the site (head there if you'd like to submit), and we're quite happy we did!
Alee is a triple (maybe even quadruple) threat. In addition to modeling, you can sometimes find Alee on the other side of a photo shoot: she's a makeup artist and hairstylist, and her handiwork is on display in all the sets of her on iheartgirls!
In front of the camera, Alee has recently been repping the clothing line Among the Prime. Alee's confident in her skin and great to collaborate with. I can't wait to share all of her sets with you!
Here's a little more about Alee in her own words:
Name: Alee Rose
Website: aleerose.tumblr.com
Instagram: aleerose

Facebook: Alee's Page

Birthday: August 8, 1993
Hometown: San Diego, CA
Ethnicity: Puerto Rican, Colombian, German, Irish
Hobbies/Interests: Cosmetology, hair, makeup, photography, walking my dog
Career Aspirations: Own a full-functioning salon and spa
Favorite Foods: Spaghetti all day
Favorite Movie: Tranformers, Iron Man
Favorite Books: The Four Agreements
Favorite Bands/Music: Atmosphere, Radiohead
Favorite Tech Gadget: iPhone 5
Favorite Travel Destination: Anywhere with the beach and sun
Girl Crushes: Stef Lova
---
Alee Rose ♥s America Wallpapers