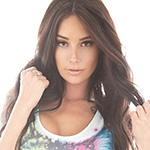 I've known Katie for awhile now, and I couldn't be happier that she's our newest model! I shot some sets of Katie for IGN Babeology a few years back, and ever since I've been dying to get her on iheartgirls, for all the obvious reasons. Namely, she is hot, hot and hot.
Katie is multi-talented. Ambi-talented? First and foremost, she's an awesome model. She poses naturally and beautifully, and never gets self-conscious or awkward. Although she says she doesn't like being the center of attention (see below), she certainly shines when the focus is on her.
Back to multi-talent! Katie's appeared in campaigns for the likes of Famous Stars and Straps… In addition to modeling, Katie is a booking agent for dancers and models. Not only that, but she's a dancer herself. Follow her Instagram feed feed for near-nightly proof. I do.
Here's a little more about Katie in her own words:
Name: Katie Pfeffer
Instagram: Katie_Pfeffer

Facebook: Katie's page

Birthday: 2/16/1990
Hometown: Santa Clarita, CA
Ethnicity: Israeli/German
Hobbies/Interests: Horseback Riding, rock climbing/ back packing, baking, dancing, and shopping of course. I will literally spend hours in the Alleys in Downtown LA bargain shopping.
Career Aspirations: I would like to continue my career as a booking agent in the nightlife industry, hopefully one day own an agency for dancers and models.
Tell Us a Secret: I hate being the center of attention or in the spot light, large crowds make me nervous and I still dance around in my undies singing " Jessie's Girl" by Rick Springfield.
Boys: Cute or Gross? Explain: I like them short, furry and funny ( Jew boys)
Secret Talent: I can fit my fist in my mouth. I have tiny hands.
Favorite Foods: I love sushi, but have allergies to fish so can't eat it very often, but I'm addicted to tacos.
Favorite Movies: Cry Baby is my all-time favorite and then The Beach.
Favorite TV Shows: Teen Wolf, How I Met Your Mother and Game of Thrones
Favorite Books: "Eat, Pray, Love" and "I Hope They Serve Beer in Hell"
Favorite Bands/Music: Lover of house music, but was raised on Eric Clapton, the Grateful Dead and Jimi Hendrix.
Favorite Video Games: Not much of a gamer, but I'll kick your ass at Dance Dance Revolution.
Favorite Tech Gadget: My GPS for sure! I have no sense of direction.
Favorite Travel Destination: Love Hawaii. I would love to visit Australia, Russia , and Thailand.
Girl Crushes: Jessica Biel, Mila Kunis, Olivia Wilde, Angelina Jolie, Kate Beckinsale, Rosie Huntington-Whiteley. I guess I can say I'm 1/4 lesbian.
Current Pets: Delilah (American Bulldog), Camelot (Horse)
---
Katie Pfeffer ♥s Cats Wallpapers
Katie Pfeffer ♥s Teddy Bears
Katie Pfeffer ♥s The Wolf Wallpapers
Katie Pfeffer ♥s The Wolf