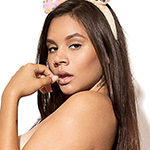 L. Shima is blowing up right now. After a cross-country road trip that had her shooting with photographers across the US, this Florida-based model has been blanketing the world wide web with awesomeness, and that makes us happy, indeed! Now we're doing our part to bring the goodness of L. Shima to your browser.
In addition to Instagram and Tumblr, you may have seen Shima on Playboy TV, as well as modeling for various product lines (like Mad Gods) and look books.
We discovered Shima through the site and were thrilled to shoot her on her latest LA journey. She's a great model: confident, sexy and inspiring and our shoot was a blast. There's just that pesky whole country between us… why can't she be just be local so we can shoot her all the time?
Here's a little more about Shima in her own words:
Name: L. Shima
Instagram: lshima_model
Facebook: L. Shima Fan Page
Twitter: @lshima_model
Birthday: 7/22/1992
Hometown: Austin, TX
Ethnicity: Japanese, African-American, Irish, German
Hobbies/Interests: Sewing, dancing and just being extra cool
Career Aspirations: Fashion designer
Tell Us a Secret: I don't kiss and tell
Favorite Foods: Katsudon, pizza and sushi
Favorite TV Shows: Current obsession: Orange is the New Black, Master Chef, The Killing
Favorite Bands/Music: R&B type of girl
Favorite Video Game: The Sims, Grand Theft Auto
Favorite Tech Gadget: My PC!
Favorite Travel Destination: Japan is my ultimate dream!
Girl Crushes: I love ALL girls
---
L. Shima ♥s Pink Wallpapers