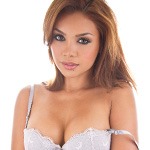 If Dawn Jaro were to pass you on the street, first off… lucky you. But after you finished scooping your jaw off the pavement, you might think, "Where have I seen her before?" And, of course, your next thought would be "where can I see her again?"
The answer to the first question is: everywhere. Dawn's been in tons of magazines and music videos and can be frequently found hosting club nights across the country (she's got it like that). The answer to the second question is: right here. Plenty of awesome Dawn pics right here… and more to come!
We've been shooting Dawn's sister Justene for years and couldn't wait to work with Dawn. It was totally worth the wait. Not only is Dawn a gorgeous girl and a great model, she is one of the sweetest people you could meet. We had a blast shooting her (a couple of times now), and can't wait for the next time!
Here's a little more about Dawn in her own words:
Name: Dawn Jaro
Instagram: @dawnjaro

Facebook: Dawn Jaro's Facebook Page
Twitter: @dawnjaro
Birthday: August 16
Hometown: Atlanta, GA
Ethnicity: Filipino/Puerto Rican
Hobbies/Interests: Playing computer games, cooking, and trying to get healthy
Career Aspirations: To own my own business
Tell Us a Secret: I have a very real fear of vampires…
Favorite Foods: It always changes, but it's Korean BBQ for now.
Favorite TV Shows: Dexter!!
Favorite Books: Any crime novels
Favorite Video Games: I'm a gamer; I can't pick my favorite.
Favorite Tech Gadget: My iPhone
Favorite Bands/Music: Hip-hop, reggae
Favorite Travel Destination: South Beach
Girl Crush: Kate Moss
---
Dawn Jaro ♥s Lavender Wallpapers