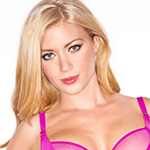 When you're an international woman of mystery, as Elena Romanova certainly is, sometimes the best place to hide is in plain sight. And thank God for that! This Ukraine-born blonde bombshell claims to be a Russian spy (shhhh!), but her civilian cover is the life of a gorgeous model.
If you're going to mask your identity, you have to go big. I mean, people have to buy it. So she's appeared in the pages of Lowrider, Playboy, and many more. And now we are honored to shoot her for iheartgirls.
Elena was a lot of fun on set. Smart, witty, positive, friendly: she's a joy to be around, and when she's in front of the camera she is totally at ease. Did I mention how beautiful she is? I probably don't even have to, since you're just going to click on the photos and see for yourself.
Here's a little more about Elena in her own words:
Name: Elena Romanova
Instagram: Elena88c

Facebook: Elena's Official Facebook page
Twitter: @ElenaRomanova88
Official site: www.iloveelena.com
Birthday: 4/29/1988
Hometown: Melitopol, Ukraine
Ethnicity: Russian/Ukranian
Hobbies/Interests: Pilates, aerial silks, reading
Tell Us a Secret: I'm a Russian spy! But, shhh… don't tell anyone! LOL
Favorite Foods: Asian cuisine, especially Vietnamese and Thai
Favorite TV Shows: Boardwalk Empire, Workaholics
Favorite Books: I love Milan Kundera, Ryu Murakami
Favorite Bands/Music: Rihanna, Jay-Z, Medina, Nirvana
Favorite Travel Destination: Paris, France
---
Elena Romanova ♥s Fuchsia Wallpapers
Elena Romanova ♥s Fuschia