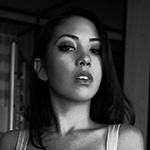 I've been doing this site for almost two years now and I've grown accustomed to seeing a lot of the same stuff when we ask for favorite tech gadget: mostly iPhones. But along comes Ayla putting the best answer yet: Kitchen Aid Mixer. Awesome. Ayla's dream is to open up a small plates restaurant (I will certainly be the first customer!) and her favorite foods are Beef Wellington and raw ahi. Next time I'm in Vegas, we are hitting some Michelen-starred restaurants together.
I could go on and on about the foodie stuff, but then I wouldn't be able to tell you how beautiful Ayla is, and how pleasant she is to work with. Halfway into the shoot, she was contorted all over the hard marble floor and likely wondering what she got herself into… but we got some awesome pictures!
Although we hadn't worked together before getting together to shoot in Las Vegas (her hometown), it was so much fun I am definitely going to schedule more trips.
Here's a little more about Ayla in her own words:
Name: Ayla
Instagram: @aylalabrown

Facebook: Ayla's Facebook Page

Twitter: @aylalabrown
Birthday: November 8, 1990
Hometown: Las Vegas, NV
Current Home: Las Vegas, NV
Ethnicity: Hawaiian/Portuguese
Hobbies/Interests: I love to eat and try new places, teach my dog (Molly) new tricks
Career Aspirations: To own and operate a small plates restaurant
Tell Us a Secret: I'm obsessed with cutting my cuticles
Secret Talent: Competitive hot dog eater– JK!
Boys: cute or gross? Explain: Cute and most times not so smart.
Favorite Foods: Beef Wellington, raw ahi tuna, egg whites
Favorite TV Show: American Horror Story
Favorite Movie: The Royal Tenenbaums
Favorite Book: Diary by Chuck Palahniuk
Favorite Video Games: Black Ops–zombies!!
Favorite Tech Gadget: Kitchen Aid Mixer
Favorite Bands/Music: Red Hot Chili Peppers, Incubus, Childish Gambino, Biggie
Favorite Travel Destination: Bora Bora– dream vacay!
Girl Crush: Lana Del Rey
Current Pets: Molly Brown (dog)- Golden Retriever mix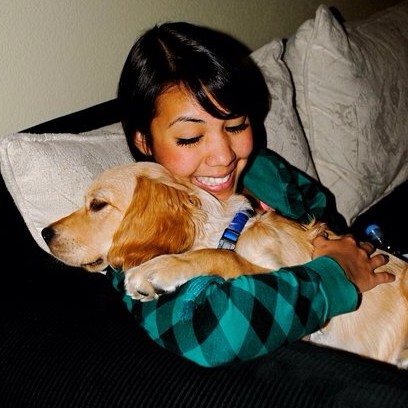 ---
Ayla Brown ♥s Black and White