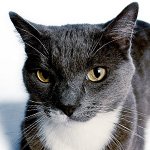 If you spend enough time on iheartgirls, you already know all about our two fuzzy mascots, Ron and Humbert. While Humbert is
the shy and sweet friendly guy, Ron is more of a ladies' man. A lothario. Something of a feline gigolo. He is always hanging at the outskirts of the shoot: watching, waiting, planning his next move. Because it's not a matter of if Ron is going to get into a photo it's when and how. And when he does sidle up next to his lady of choice, Ron puts on the full court press. He's not leaving until somebody cuddles him, or pets his belly or even kisses him on the mouth.

Today is Ron's ninth birthday, so we wanted to pay tribute to him in the only way that will feed his enormous, alpha-cat ego… by showcasing all of this handsome devil's favorite snaps with our very tolerant models (or as he likes to think, his girlfriends).
Check out his modeling portfolio below: