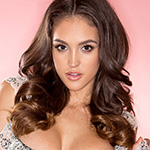 There are those people who look amazing in pictures and then when you meet them in person, you realize it's all smoke and mirrors. But not Jaclyn Swedberg. When she's on the scene, there isn't a wisp of smoke or a mirror in sight. Jaclyn is absolutely striking in person. And I've seen lots of beautiful photos of Jaclyn, but the real thing is even better. 
Of course, that's one of the reasons that she was made a Playmate, and definitely one of the reasons that she was selected as 2012 Playmate of the Year. But there are a ton of other reasons: She's fun, carefree, easy to talk to, and outstanding in front of the camera. On top of it all, she takes amazing pictures (of course)… Never a bad snap. And yes, she has perfect skin. Like… perfect. (Can you feel the jealousy?) 

Our first shoot ever was everything I hoped it would be. Beyond her obvious beauty, she is so confident and at home in front of the camera that she makes it nearly effortless to capture amazing stuff. And that's just what we did! Click on the pics at the bottom of the page to see what we created.
Here's a little more about Jaclyn in her own words:
Name: Jaclyn Swedberg
Instagram: @PMOY2012

Twitter: @Jaclyn_Swedberg
Facebook: Jaclyn's Facebook Page

Birthday: August 14, 1990
Hometown: Chino Hills, CA
Current City: Sherman Oaks, CA
Ethnicity: Italian/Swedish
Hobbies/Interests: Cooking, shopping, reading
Career Aspirations: Acting, broadcast journalism
Boys: cute or gross? Explain: Cute unless they're assholes
Favorite Foods: Candy and carbs
Favorite TV Show: Breaking Bad
Favorite Books: Anything in the horror/thriller genre
Favorite Bands/Music: Everything… Love music
Favorite Video Games: Way too bad with hand/eye coordination
Favorite Tech Gadget: Can't live without my iPhone
Favorite Travel Destination: Greece, anywhere with a beach
Girl Crushes: My fellow Playmate sisters
Current Pets: April (Dog)
---
Jaclyn Swedberg ♥s Black Lingerie
Jaclyn Swedberg ♥s Cleaning