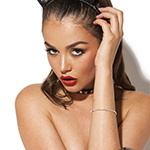 Allie Haze needs no introduction. She's already made a huge name for herself starring as Princess Leia in the adult adaptation of Star Wars (Star Wars XXX). She's been a Vivid contract girl, a recent Penthouse Pet, and star of HBO's Emanuelle in addition to appearances in hundreds of other films.
I love Allie: she's utterly gorgeous, quick to laugh, completely comfortable in front of camera, and such a joy to shoot. We met through our mutual friend Brian and I couldn't wait to set something up. So happy we got a chance to work together!
She's got so much range and such a great sense of humor, the shoot flew by. My only consolation: perhaps we'll shoot again. Or go bowling. Bowling was mentioned several times.
Here's a little more about Allie in her own words:
Name: Allie Haze
Twitter: @alliehaze
Website: alliehaze.com
Birthday: May 10th
Hometown: Redlands, CA
Current City: Los Angeles, CA
Ethnicity: Hispanic/Dutch
Hobbies/Interests: Soccer, family, dogs
Boys: cute or gross? Both
Favorite Foods: I love to cook!
Favorite TV Show: Law and Order, WWE, Castle
Favorite Bands/Music: Country
Favorite Video Games: PS3 anything
Favorite Tech Gadget: They scare me
Favorite Travel Destination: Greece
Girl Crushes: Skin Diamond, Sandra Bullock
Current Pets: 2 dogs and 1 fish
---