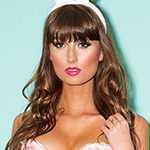 Chelsea Skye is quite multi-talented. Not like she's double jointed or can recite all of the dialogue from the pilot episode of Saved By the Bell (actually, she might be able to; we never asked)… In cool ways that actually matter in the world. Ways like making you laugh.
Chelsea writes her own awesome and very funny blog at xoxochelseaskye.com, where she details her life sarcastically and hilariously. Check out the entries about the real estate office and the sex party.
She is also hard at work studying improv here in LA. As you'll see in the Q&A below, her ambition is to break through as a comedic actress. After shooting her, I can confirm: not only is she very beautiful, but she's quite funny in person, too.
Chelsea recently moved to LA from NYC, which sometimes leads to culture shock… but Chelsea seems like she adapts pretty well to every situation. Like being asked to don bunny ears and gnaw on chocolate while looking sexy. See? Multi-talented.
Here's a little more about Chelsea in her own words:
Name: Chelsea Skye
Instagram: @xoxochelseaskye
Facebook: Chelsea Skye's Facebook Page

Website: xoxochelseaskye.com
Birthday: October 1st
Hometown: New York, NY
Current City: Los Angeles, CA
Ethnicity: Russian, French and Swiss
Hobbies/Interests: Baking cookies, improv and sketch comedy, watching movies, writing
Career Aspirations: Comedic actress
Tell Us a Secret: I'm a terrible driver… Wait, that's not a secret.
Boys: cute or gross? Cute
Secret Talent: Pretending like I care about other peoples' feelings
Favorite Foods: Sushi
Favorite TV Show: Breaking Bad
Favorite Movie: American Psycho
Favorite Books: Lolita
Favorite Bands/Music: Rolling Stones
Favorite Video Games: Mortal Kombat
Favorite Tech Gadget: iPhone?
Favorite Travel Destination: North Shore of Oahu
Girl Crushes: Kate Moss