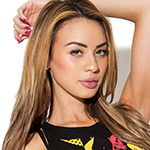 I first met Natalie Bee back in the Babeology days. She was working as a NOS girl at E3 and caught my eye, and we ended up connecting on an awesome Pokemon-themed shoot, among other things. Look for those coming up as Double Exposure features later!
Natalie is so fun to shoot, in addition to being beautiful and very natural in front of the camera.  We'd been trying to connect on a shoot for a while and I'm excited that we were able to work things out.
Our shoot was our first since Natalie decided to come back to LA (from Vegas), and I'm honored to get the opportunity, and so happy to welcome her to iheartgirls.
In addition to modeling, Natalie has been hard at work on her fashion line LUDE. Here's a little more about Natalie in her own words:
Name: Natalie Bee
Instagram: @ilovenataliebee
Twitter: @ilovenataliebee
Facebook: Natalie Bee's Facebook Page
Birthday: April 4, 1989
Hometown: Laverne, CA
Current City: Las Vegas, NV
Ethnicity: Filipina/British
Hobbies/Interests: Fashion design and shopping. That's a hobby, right???! Ha ha
Career Aspirations: Currently working on my line LUDE. Gotta keep the ladies sexy.
Tell Us a Secret: I love eating pizza in bed and i do it often. Oops!
Boys: cute or gross? Sometimes cute but mostly gross! Ha ha
Secret Talent: I'm really good an untangling things. Weird right?! Ha ha
Favorite Foods: PIZZA! And Mexican food. Yup, healthy diet, I know.
Favorite TV Show: I've seriously watched all 8 billion Law and Order SVU episodes… TWICE!
Favorite Movie: Anything Quentin Tarantino!
Favorite Books: Books??? Hmmmmmmm
Favorite Bands/Music: I have and always be a hip hop girl
Favorite Video Games: Probably Grand Theft Auto, because who doesn't love stealing cars and picking up hookers?! Ha ha ha
Favorite Tech Gadget: Of course my iPhone and my baby iPad never leave my side
Favorite Travel Destination: PHILIPPINES! Gorgeous beaches AND people
Girl Crushes: Asa Akira and Lucy Liu. Guess i like Asians