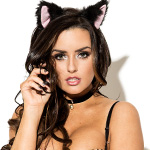 If you pay attention to beautiful girls on Instagram (and let's be honest, we all do), then it's highly unlikely that the gorgeous Abigail Ratchford has somehow escaped your notice. She did not escape ours.
We got in touch on Instagram and quickly set up a shoot, and I'm so happy we did! Abigail is amazing: a beautiful, seasoned model with a ton of confidence in front of the camera.
We shot a bunch of amazing looks in our first ever shoot together including (gasp) a Wonder Woman set, cat-themed set (of course), and a bubblegum ice cream look (yum)! Stay tuned for all of these in the future… but now, it's time to learn more about Abigail!
Here's more about her in her own words:
Name: Abigail Ratchford
Website: OfficialAbigailRatchford.com
Instagram: @Abigailratchford
Twitter: @AbiRatchford
Birthday: February 12
Home State: Pennsylvania
Current City: Los Angeles, CA
Ethnicity: German, Irish, French
Hobbies/Interests: Modeling, acting
Career Aspirations: To get into acting and do films and commercials
Tell us a secret: I'm scared of clowns!
Boys: cute or gross? So cute! How could we live without them?
Secret talent: Celebrity impressions
Favorite Foods: Sushi
Favorite TV Show: Bates Motel
Favorite Books: The Great Gatsby
Favorite Bands/Music: The Weeknd
Favorite Tech Gadgets: iPad
Favorite Travel Destination: Fiji
Girl Crushes: Angelina Jolie
Abigail Ratchford ♥s Purring