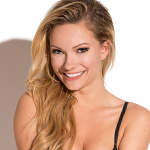 Caitlin O'Connor is everywhere! Or, more accurately, lately wherever we look, Caitlin O'Connor is popping up… and that's quite alright with us!
Caitlin was recently on the finale episode of Two and a Half Men and she stars in a commercials for Dave and Busters and Bellator. She's Maxim Magazine's Advice Girl, and is Miss January in their wall calendar (there's a reason no one has flipped their calendar yet!).
But beyond that, she's all over Instagram and Twitter, and popping up on tons of red carpets around Hollywood. Does she ever sleep?
If you've tracked my photography for a while, you'll recognize Caitlin from Babeology. I shot her back in the day for that and I'm really excited we've now gotten her for iheartgirls!
Here's more about Caitlin in her own words:
Name: Caitlin O'Connor
Instagram: caitlin__oconnor
Twitter: @caitlin_oconnor
Facebook: Caitlin's Facebook Page
Birthday: August 3rd
Hometown: Uniontown, Pennsylvania
Current City: Los Angeles, CA
Ethnicity: Caucasian
Hobbies/Interests: Travel, cuddling and watching TV
Career Aspirations: I am also an actress!
Tell us a secret: I'm an adventuress– I love new adventures and traveling!
Boys: cute or gross? Boys are gross. I heart my boyfriend.
Secret talent: I can walk on stilts!
Favorite Foods: Sushi and thai food
Favorite TV Show: Buffy the Vampire Slayer
Favorite Books: On the Road: Jack Kerouac
Favorite Bands/Music: Incubus, Switchfoot, Knife Party
Favorite Video Games: Need For Speed, Batman: Arkham Asylum
Favorite Tech Gadgets: My Note 4
Favorite Travel Destination: Hawaii
Girl Crushes: Megan Fox
Caitlin O'Connor ♥s Black Rabbit