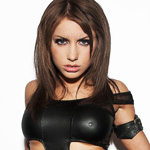 We met Liz Katz at WonderCon 2012 in full costume. Although she says that she wasn't dressed as anything in particular, her outfit (which was essentially a leather and fur bikini) certainly drew a crowd. It's easy to see why her convention style garnered lots of attention, and even earned her a cosplay award from IGN.com.
Her business card says "professional eccentric" and that's an accurate description. She's got a frenetic energy and a unique sense of humor… and is even a bit of a contortionist (which she demonstrated during her shoot). In addition to seeing her at various conventions winning over the masses, fans can find more photos and videos of Liz  at Time of the Faeries and Sam Macaroni.
Here is more about Liz in her own words!
Name: Liz Katz
Facebook: Liz Katz Fan Page
Website: lizkatz.com
Birthday: July 8, 1988
Ethnic Background: Half nerd/half mystical creature
Hobbies/Interests: Kicking ass
Career Aspirations: World domination (or at least a small continent)
Favorite Food: Brains
Favorite Video Games: Baldur's Gate, Planescape Torment
---
Liz Katz ♥s Catwoman Wallpapers