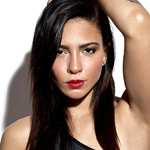 New York could not contain her. LA welcomed her with open arms. Aurielle is getting set to blow up, and we're happy to count her among the ranks of girls we heart.
A three-times finalist on America's Next Top Model (she did not appear on TV), Aurielle's a bit of a Renaissance Woman. She's hard at work on music (check out the music video for "Close Your Eyes" below), has been modeling for various look books, and even posed for photographer David Lachapelle.
With all that going on, she also has time to school your ass in Call of Duty, Left 4 Dead or Tetris (online snooping reveals rumors of some kind of Tetris championship). Talented, driven, beautiful and great at video games: Not a bad mix.
Here's the Close Your Eyes video we mentioned:
Here's a little more about Aurielle in her own words:
Name: Aurielle
Instagram: AurielleXO
Twitter: @AurielleXO
Birthday: July 5th
Hometown: Atlanta, GA
Ethnicity: Persian/African American
Hobbies/Interests: Singing, modeling, video games, fashion, Polaroid photography, learning to cook
Career Aspirations: Singer and role model, mommy and wife someday!
Tell Us a Secret: I have 48 Alice in Wonderland books I collected over the years
Favorite Foods: Persian food, Roscoe's
Favorite Movie: Garden State, Clueless
Favorite Books: Twilight series
Favorite Bands/Music: Drake for days!
Favorite Video Game: Left 4 Dead, Call of Duty, Tetris
Favorite Tech Gadget: iPhone 5
Favorite Travel Destination: Paris, Hawaii, St. Marten
Girl Crushes: Leighton Meester, Blake Lively… Gossip Girls!
---
Aurielle ♥s Rawr Wallpapers