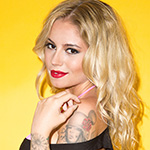 I met Ellis through Willie T, a longtime friend and collaborator (you can see his video handiwork here). Of all of the photographer/videographers I know, Willie is one of the coolest and most generous about suggesting models. He had amazing things to say about Ellis, and it's not hard to see why. Before working with her, there was the obvious fact that she only takes good photos. That's lead to tons of appearances in magazines like FHM, Zoo and Loaded. She's based in London, but her photos have appeared all over the world.
Needless to say, I was very excited about shooting her after Willie's glowing review. My own experience with her was the same: she is an excellent model in complete control. She's gorgeous, confident and obviously beautiful. But beyond that, she is great at all the technical aspects of modeling that are way harder than they look: posing, expressions, movement. With international models there is always that bittersweet feeling. Can't they all just live here?  Fingers crossed she loves LA enough to stay next time!
Here's a little more about Ellis in her own words:
Name: Ellis Cooper
Instagram: @elliscooperofficial
Facebook: Ellis' page
Twitter: @elliscooperx
Official site: www.ellis-cooper.com
Birthday: 11/28/1991
Hometown: London
Ethnicity: British
Hobbies/Interests: As i'm sure you can tell I'm a collector of tattoos and fine art, I'm forever trying to finish that drawing I started and got angry with.

 

Career Aspirations: I guess the dream as a model would be to have the cover of Playboy or something equally as spectacular!
Tell Us a Secret: For years I thought I didn't like ice cream, I do. I'm devastated.

 

Favorite Foods: Frozen yogurt, sushi, pancakes with ketchup (English pancakes haha)
Favorite Movies: Pulp Fiction, Drop Dead Fred, The Faculty, Seven Psychopaths… 

 

Favorite TV Shows: Breaking Bad, The Office US, Locked up Abroad, anything about food.
Favorite Books: I used to read a lot of Stephen King but recently, One Day by David Nicholls. It was pretty fucking brilliant!
Favorite Bands/Music: I'm one of those people who likes more or less everything. My playlists vary from ZZ Top, Yeah Yeah Yeahs, Pixies, Big Pun, No Doubt, Andre 3000, The Rolling Stones, Smashing Pumpkins …
Favorite Tech Gadget: Going to say my iPhone

 

Favorite Travel Destination: I am forever wanting to go to Costa Rica but places that I have been, I'd say LA is my favourite.
Girl Crushes: Karen O, Pamela Anderson, Salma Hayek, Eva Mendes, Sienna Miller, Shannyn Sossamon… SO MANY!!!
---
Ellis Cooper ♥s Black Lingerie
Ellis Cooper ♥s LA Wallpapers